Bike holiday in the Dolomites: Experience the mountains world
A paradise for cyclists

The region Kastelruth - Seiser Alm is suitable as a paradise for mountain bikers like no other Dolomite region. Around the Hotel Madonna **** Alpine & Charm about 1,000 kilometers of cycle paths on two altitudes await you. From easy to hard the best tour can be found for all bike fans. Thanks to the altitude even in
summer
our guests do not break sweat so fast when cycling and the clear, cold water of small mountain streams provides with an extra refreshment along the way.
No matter if our guests are arriving by road bike or mountain bike, anyway a diversified sports holiday is waiting for them. The tours around Kastelruth usually last between two and five hours.
Enjoy the bike holiday in the Dolomites alone, as a couple or in a group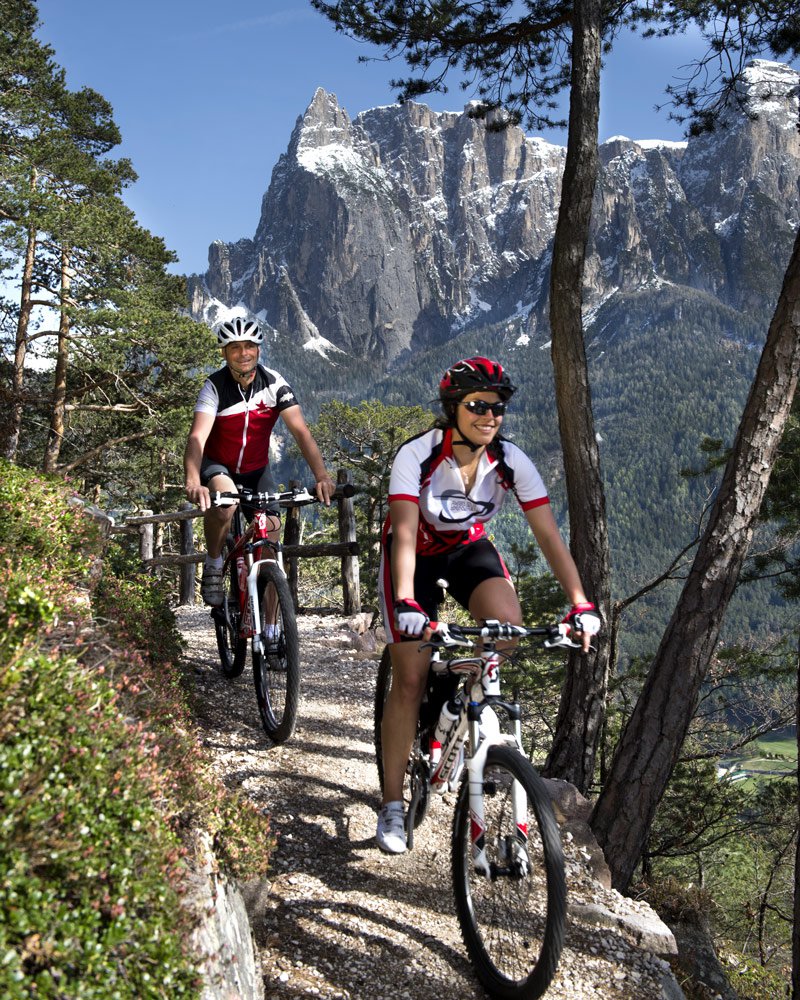 In a
bike holiday in the Dolomites
you have a choice: do you want to completely surrender yourself alone or as a couple to your sport or to explore on your own the Seiser Alm along quiet roads or on the special, graveled mountain bike trails? Would you like to do together with friends a guided single or multi-day tour through the Dolomites? Or let the professional guides reveal tips and tricks which increase fun on steep climbs and fast descents? All this and much more can be found with our partner "Alps activ" and at the sports premises of the Seiser Alm region. Monotonously dragging around is certainly out of question for our guests during a
bike holiday in the Dolomites
. This is granted by 33 bike routes for all fitness levels, from easy care increasing with 2-300 altitude to technically demanding laps with up to 2,500 meters above sea level. On the sweeping gravel roads 19 special mountain bike tours crisscross over the high plateau, with the Dolomites always in view.

Here are two tour suggestions as a tip of the house:

The Seiser Alm tour starts near the Information Office of Compatsch and takes about two and a half hours. The bikers follow the road number 7, which leads over flowering meadows and quaint cottages. Over the Goldknopf they finally reach the Molignon and follow the forest path no. 8, which leads to Saltria. Across the street n.3 the bikers come then back to Compatsch. The ruins round starts at the Tourist Office in Seis. Initially, the bikers can warm up on asphalt till Kastelruth, while then take the gravel path to the hamlet of Tiosels. Going to the water level, the bikers must then deal with a slope of 13 percent, which however decreases towards the water level. Now a small side road leads to the control station of St. Valentin, from where the bikers can easily return to Seis.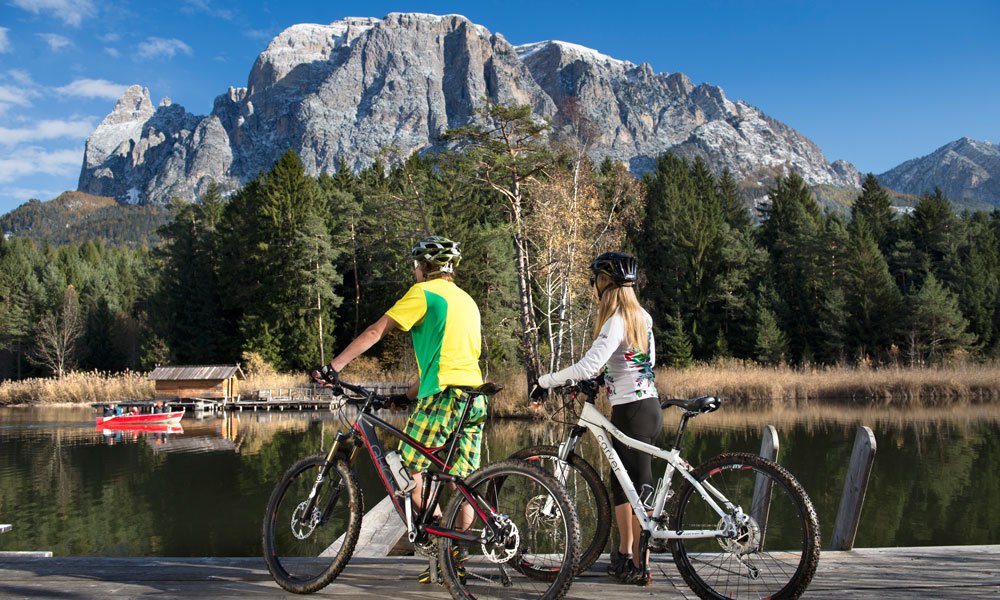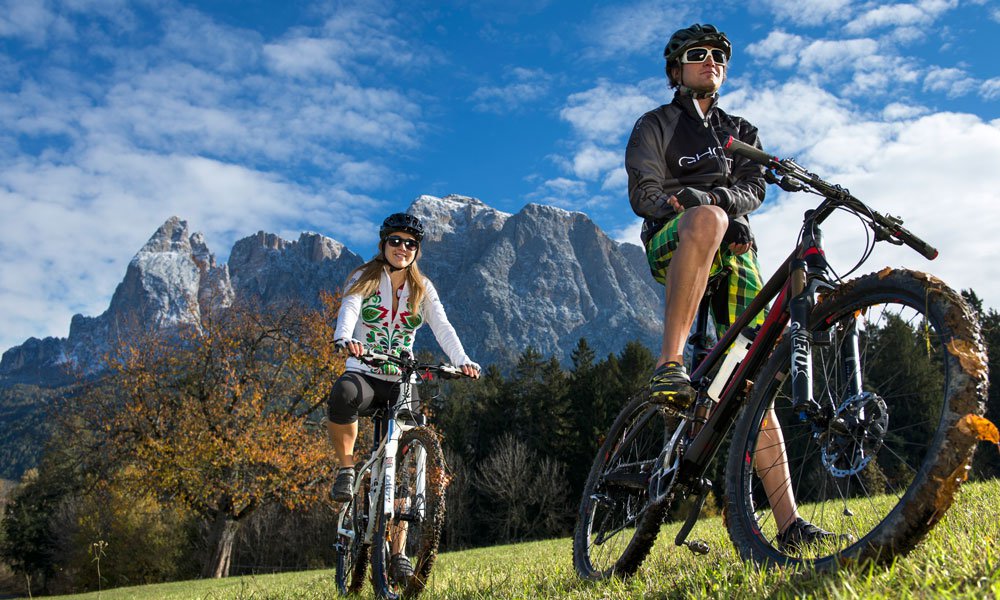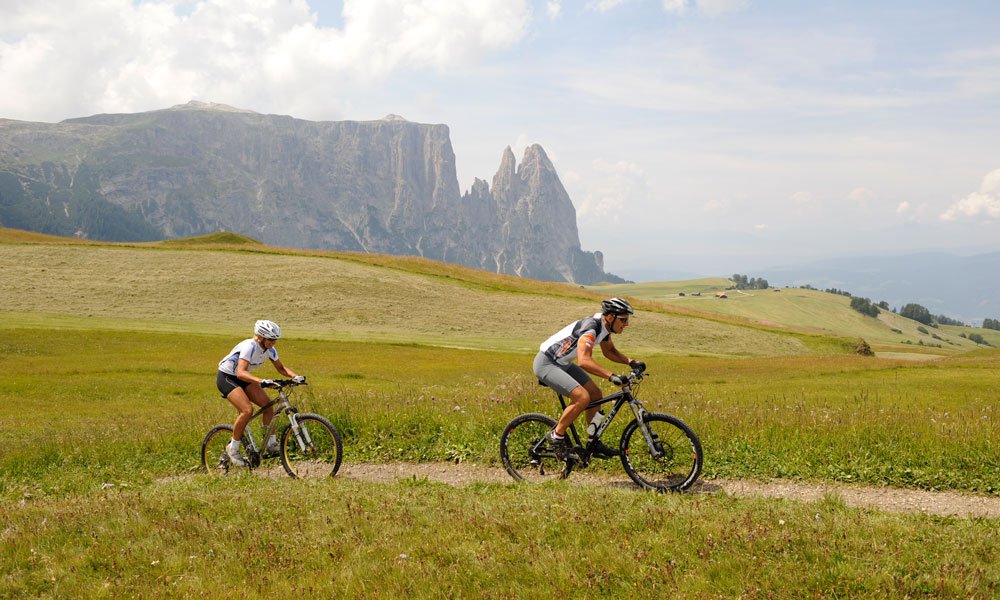 A paradise for cyclists